Maybe it's me, but it seems that more college football games are being scheduled earlier in the day, this year.   If gametime is earlier, then so is the tailgating.  I don't know about you, but personally, the idea of drinking beer at 9am isn't very appetizing.  Here's a spicy Bloody Mary recipe from the Silver Palate that's perfect for early morning tailgating, not to mention brunch. This recipe involves heating the ingredients together and then letting it cool. So it's a perfect to do the night before.
I like to offer a non-alcohol alternative.  I serve the vodka on the side, so even your designated drivers can enjoy this beverage.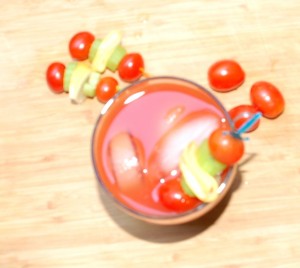 Bloody Mary (serves 6-8)
Ingredients:
1 qt tomato juice
1/2 cup lemon juice
2 Tblsp prepared horseradish
Freshly ground pepper to taste
Several hefty dashes of Worcestershire sauce
Several hefty dashes of Tabasco
1 1/2 cups vodka
Instructions:
Combine all ingredients, except the vodka, in a large saucepan.
Heat to simmering for 5-6 minutes.
Let Cool.
To serve, pour a jigger of vodka into an ice filled glass.  Add tomato juice mixture. Garnish and enjoy.  The original recipe called for a basil garnish. Of course you can also use the traditional celery stalk.  I chose to garnish with grape tomatoes, celery and lemon on a long toothpick.