A friend left a wonderful package on my desk the other day – fresh Blackberries – many were the size of my thumb!  What a treat!  I immediately knew what I would make with them – Blackberry Fool.  What is a fool?  It's a chilled dessert made by blending whipped cream and fruit puree. Easy and delicious – fools are a wonderfully light treat to end a summer meal.  June is the perfect time to try this recipe as berries are now ripe and ready to be picked.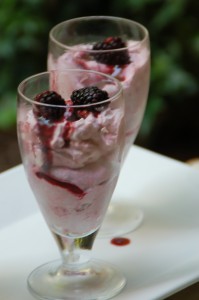 The fruit puree couldn't be easier.  Just put the blackberries, sugar and lemon juice into a blender and puree.  Then, place a sieve over a medium size bowl and push the puree through the sieve with a rubber spatula, leaving the seeds in the sieve.
For the whipped cream, the secret is really chilling the cream, bowl and whisk attachment before whipping the cream.  I actually put them all in the freezer for a short time. You want to whip the cream into a stiff peak stage, so when you fold in the puree you still keep a whipped consistency.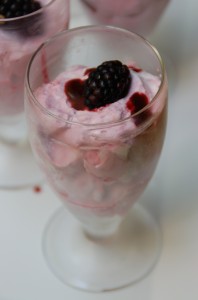 I like to serve this dessert in small glasses, with a drizzle of puree and a whole berry for garnish.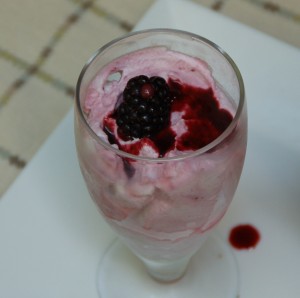 Ingredients
Puree

2 cups fresh blackberries
1/2 cup sugar
1 tsp lemon juice

Cream

2 cups heavy cream
1 tsp vanilla extract
Instructions
Place the heavy cream, mixing bowl and whisk attachment in the freezer for 15 minutes to chill.

Puree

Place the blackberries, sugar and lemon juice in a blend and puree until smooth.
Pour the puree into a sieve placed over a medium bowl. Press the puree through the sieve, using a rubber spatula - leaving the seeds in the sieve. Reserve 1/3 cup of puree.

Cream

Whip the heavy cream and vanilla in the chilled mixing bowl, until the cream achieves stiff peaks.
Using a rubber spatula, fold the puree into the cream. Don't overmix.
Spoon the mixture into small glasses, Cover and chill for an hour.
Before serving, drizzle the reserved puree over the cream and top with a fresh berry.
http://ascrumptiouslife.com/blackberry-fool/