Well who knew?? Apparently tomorrow is National Banana Bread day.  I don't generally keep up with all the food holidays and had already scheduled this post for today, how fortuitous!  So these are in muffin form instead or a loaf bread, but let's not stand on formality.  If you do want a Banana loaf bread to celebrate the day – try my Banana Tea bread.
I usually steer away from recipes named "Best" .  I mean whose opinion made this recipe "Best"?  I assume that it's probably a recipe from a company whose product is included in the recipe-not that there's anything wrong with that, but I like to label a recipe as "Best" myself.  So I had quite a laugh when I decided to make my favorite banana muffins and found the recipe was called "Best Ever Banana Muffins". Well, you'll just have to make them and decide if they are aptly named.  Personally, though, I think they're pretty darn good – nice and moist, and full of flavor.  This time I topped them with broken up banana chips, which made for a nice presentation.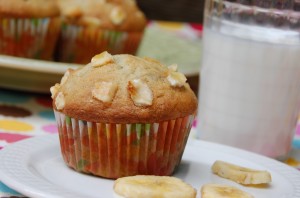 Best Ever Banana Muffins (makes 1 dozen)
Ingredients:
3 large ripe bananas, (the riper the better)
¾ cup sugar
1 egg, slightly beaten
1/3 cup butter, melted
1 tsp baking soda
1 tsp baking powder
1/2 tsp salt
1 ½ cups all-purpose flour
Banana chips (optional)
Instructions:
Preheat oven to 375 degrees F.
Line a muffin pan with muffin liners
In a large bowl or mixing bowl, mash the bananas.
Add the sugar and egg and stir to combine.
Add the melted butter and stir until incorporated.
Combine the remaining (dry) ingredients and add to the banana mixture, a third at a time, stirring to combine after each addition.
Spoon the batter into the muffins cups.
Sprinkle broken banana chips over the batter, if desired.
Bake for 20-25 minutes.  Test with a toothpick after 20 minutes.
Remove muffins from the oven and cool on a wire rack.
recipe from Muffin Mania