An eminently edible fruitcake ???
That was the title of a 2000(?) Food and Wine article that is now one of my most stained and wrinkled recipes.  I know what you're thinking…..a fruitcake is very useful as a doorstop!  I too, used to thumb my nose up at a fruitcake – all that glaceed fruit stuck together with seemingly no 'cake'.   But this recipe sounded (and is) wonderful.  It starts with an applesauce based batter and then adds dried fruit and nuts. The result is a far cry from the ordinary. Trust me on this one, people!
And why are we talking fruitcake and it's still November?  Well, my DATG (Day after Thanksgiving- forgive the retail jargon) tradition is to decorate my home for the holidays and bake fruitcakes.  Why?  After many years in retail, the last place I want to be on the DATG is the Mall ! I love being at my calm, peaceful home with all the lights, smells and sounds of the season (including my seasonal ringtone – this year it's 'All I want For Christmas is You' – Mariah Carey -but I digress). Anyway, the loaves can stay in a cool dry place for up to three months, so they can be baked well in advance AND while the cake is great without the alcohol, for those who like to 'season' their cakes – you need to bake them soon, so the brandy will have time to do it's stuff !
Hoping you all had a wonderful Thanksgiving!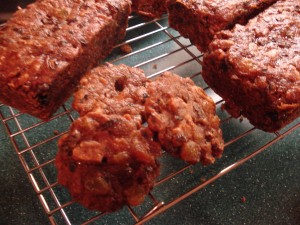 Grace Stuck's Applesauce Fruitcake
Makes 10 5-by-3-by-2 inch loaves
Ingredients:
3 cups unsweetened applesauce, preferably homemade
2 sticks (8 ounces) unsalted butter, cut into chunks
1¼ cups sugar
½ cup dark molasses
1/3 cup honey
1 box (15 ounces) golden raisins
1 box (15 ounces) dark raisins
1 cup dried currants
1 cup dried tart cherries or cranberries, coarsely chopped
1 cup dried apricots, coarsely chopped
2 cups walnuts, coarsely chopped (about ½ pound)
2 cups pecans, coarsely chopped (about ½ pound)
4½ cups all-purpose flour
1 Tbsp. plus 1 teaspoon baking soda
2 tsp. cinnamon
1 tsp. freshly ground nutmeg
1 tsp. allspice
1 tsp. salt
½ tsp. ground cloves
walnut and pecan halves, for garnish (optional)
½ cup brandy(optional)
Directions:
Heat the applesauce over moderate heat in a medium non-reactive saucepan. Add the butter, a few pieces at a time, and stir until the butter is melted and the applesauce is bubbling (4 to 5 minutes).
Add the sugar, molasses, and honey and cook, stirring, until the sugar dissolves (about 1 minute). Let the applesauce cool to room temperature.
Preheat the oven to 275°F. Butter and flour ten 5-by-3-by-2-inch loaf pans. Tip: Use room temperature butter OR slightly heat the pans so the butter spreads in pan easily.
In a large bowl, combine the golden and dark raisins, currants, cherries, apricots, walnuts, and pecans with applesauce.
Sift together the flour, baking soda, cinnamon, nutmeg, allspice, salt, and cloves into a medium bowl. Fold into the applesauce-fruit mixture until just blended.
 Quickly divide the batter among the pans and smooth the tops with a rubber spatula dipped in water. Press walnut and pecan halves into the tops to decorate (optional).
Bake the fruitcakes for 60 to 70 minutes or until a knife inserted in the center comes out clean. Let the cakes cool in the pans for one hour. Unmold them onto a rack and let cool to room temperature. Brush the brandy, bourbon, or rum all over the fruitcakes. Wrap tightly first in plastic wrap, then in aluminum foil. Store in a cool, dry place for at least one week and up to three months.
After the first week you may unwrap the cakes and baste with additional brandy, bourbon or rum. Re-wrap and let season after basting for at least one week.
I tried several different molds/pans (see below). The mini mold cooking time was 25 min, larger mold 45 min, loaf pans 65 mins.
.