Some people like Ham or Turkey at Christmas.  Beef Tenderloin is my favorite choice for Christmas dinner. It must be my British background.
Last Christmas, I went shopping at one store and they wanted $30 per lb – that would have cost me almost $100.  Yikes! I stopped by my neighborhood grocery and, luckily, they had whole tenderloin for $8 per lb. What a difference!  So, if you're planning to serve Beef Tenderloin, start looking for sales early (like TODAY!).  Now, that difference in price meant I had to do a lot more trimming, but it was well worth it. For great step by step directions on how to trim a tenderloin, check out this post on Pioneer Woman – she's married to a rancher, so she's got lots of good info on beef.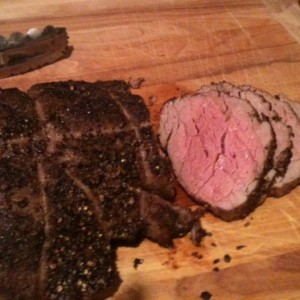 Here's a recipe I've made for several Christmas dinners.  I love it because it's tasty and so easy.  Just rub the tenderloin with  olive oil and the pepper based spice mixture and roast on a rack in the oven until it reaches 130 degrees F. You'll get a perfect medium rare beef that's almost fork tender!  BTW – You'll be cooking this on high heat, to start. So, make sure your oven is clean.  If you plan to use your oven's self cleaning process – plan ahead. Self cleaning takes some time.  Christmas Eve is NOT a good time to do this!

Sometime I serve it with a garlic cream sauce, which I've included in the recipe below.
To round out your menu, try these sides: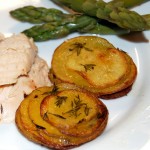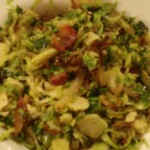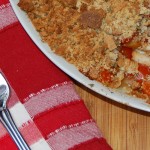 and because it's Christmas, end the meal with a fabulous dessert.  Look for one, here next week!
Ingredients
1- 3 lb beeef tenderloin, trimmed and tied
1/4 cup cracked black pepper
2 tsp granulated beef bouillon
2 tsp kosher salt
3/4 tsp cornstarch
3/4 tsp dried oregano
3/4 tsp garlic powder
3/4 tsp paprika
1 Tblsp olive oil

Sauce

1 head garlic, left intact
1 tsp olive oil
3/4 tsp salt
2 cups heavy cream
1/4 cup drained bottled horseradish
1/8 tsp white pepper
Instructions
Preheat a CLEAN oven to 475 degrees F.
Mix the pepper, bouillon, salt, cornstarch, oregano, garlic powder and paprika in a small bowl.
Pat the tenderloin dry and rub with olive oil.
Sprinkle the spice mixture over and rub it into the meat.
Place the tenderloin onto a rack in a roasting pan.
Roast for 10 minutes. Reduce the oven temperature to 425 degrees F.
Roast until a thermostat, inserted diagonally in the center of the meat, registers 130 degrees F. (Approx 25 minutes for medium rare).
Remove the tenderloin from the oven and let it rest in the rack for 20 minutes.
Cut the beef into 1/4 inch slices and serve.

Sauce

Preheat oven to 400°F.
Cut off and discard top fourth of garlic head. Drizzle exposed garlic with oil and sprinkle with 1/4 tsp salt. Wrap head tightly in foil. Place in the middle of the oven and roast for 1-1 1/4 hour until tender.
Remove garlic from oven, unwrap and cool.
While garlic roasts, simmer cream in a 1 1/2- to 2-quart saucepan, stirring occasionally, until reduced to 3/4 cup, 20 to 25 minutes Transfer to a bowl.
Squeeze cooled garlic cloves into a small bowl. Mash together with horseradish, pepper, and remaining 1/2 tsp salt, using a fork.
Stir garlic mixture into cream. Chill until ready to use.
Notes
Sauce can be made in advance.
http://ascrumptiouslife.com/beef-tenderloin/