I volunteered to bake some goodies for a bake sale at work.  Staring at the overripe bananas on my counter- I decided to make banana bread.  Everyone has their favorite banana bread recipe.  This old favorite from The New York Times Cookbook, is a little more cake like , not quite as heavy  as some recipes.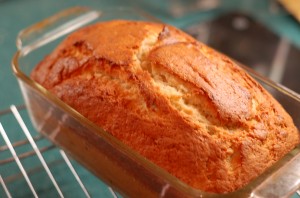 Banana Tea Bread (makes one loaf)
Ingredients:
1 3/4 cups all-purpose flour
2 tsp baking powder
1/4 tsp baking soda
1/2 tsp salt
1/3 cups shortening
2/3 cups sugar
2 eggs, beaten
1 cup bananas, peeled and mashed
Instructions:
Preheat oven to 350 F degrees
Sift the flour, baking powder, baking soda and salt together.  Set aside.
Cream the shortening in a stand mixer.  Add sugar gradually and mix until light and fluffy.
Add eggs and beat well.
Add flour mixture alternately with bananas and beat until smooth.
Pour batter into a well greased 8 1/2 inch loaf pan.
Bake 45-60 minutes.  If baking in a glass dish, make sure the bottom of the loaf is not getting too brown.