On a recent post I talked about my interest in cooking in the eighties.  Ahh the eighties, Duran Duran, the Police, legwarmers, acid washed jeans, Madonna — oooh , on second thought…..  Foodwise, I remember Pesto being the big new thing and fried zucchini (actually fried everything!) Fried Zucchini was served everywhere as an appetizer, served as sticks or rounds, with ranch dressing or marinara sauce. Quite frankly, I'm not sure that I've eaten it since!
Recently I ran across this recipe on The Comfort of Cooking and I knew I had to try it.  It's a fun and much healthier replacement for the original -a different way to use up that bumper crop of zucchini that even the kids will love. Let me know what you think.  Oh …. and legwarmers are optional !!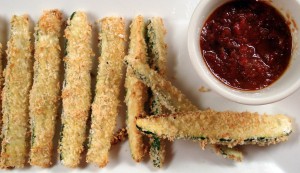 Baked Zucchini Fries (adapted from The Comfort of Cooking) serves 6
Ingredients:
3 medium zucchini, cut lengthwise into sticks (approx 24 sticks)
2 large eggs
3 heaping Tbsp flour
3/4 cup panko breadcrumbs
1 Tbsp dried italian herbs
3 Tbsp grated parmesan cheese
1/4 tsp garlic powder
salt and pepper to taste
Instructions:
Preheat oven to 425 degrees F.  Spray a baking sheet with cooking spray and set aside.
Place the flour in a bowl (cereal  or pasta bowl size is good)
In a second bowl, beat the eggs with a fork until frothy.
In a third bowl, mix the breadcrumbs, herbs, parmesan cheese, garlic powder , salt and pepper
Dip the zucchini sticks into the flour, then egg , then the breadcrumb mixture.  Make sure all sides are coated well.
Place  the sticks on the prepared baking sheet.
Bake for 20 minutes, until golden brown and crispy.  Serve warm with ranch dressing or marinara sauce.