A few weeks ago , we surprised my Mom for her 80th birthday.  Since the party was 3 weeks in advance, she was totally surprised.  Our hostess went all out, making homemade scalloped potatoes, freshly steamed veggies and bread pudding. It was all delicious, but I was completely impressed with the easy preparation of the Sole Almondine. This recipe is definitely an example of less is more.
I've since made it myself.  I used cod which is a thicker fish, so baking time increased to 35 minutes.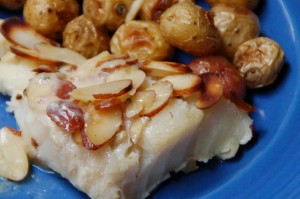 Baked Sole Almondine (serves 6)
Ingredients: (amounts are approximate)
1/2 stick of butter (1/2 of it softened)
2 lemons
6 sole fillets
1/2 cup sliced almonds
Instructions:
Preheat oven to 350F degrees.
Spread the softened butter on the bottom of a 13×9 inch baking dish.
Squeeze the juice of 1 lemon over the butter.
Place the fish over the butter.
Cut the hard butter into cubes.
Sprinkle some of the butter cubes over the fish.
Squeeze the juice of the remaining lemon over the fish.
Season with salt and pepper.
Sprinkle the almonds on top of the fish.
Bake,uncovered, for 20 minutes.
Serve immediately.