I love baked eggs.  I don't know why I don't make them more often.  A classic French dish, I think baked eggs kick breakfast up a notch.  I first made the Sunny Baked Eggs recipe from The Silver Palate.  Over the years I've made lots of different concoctions and that's one of the reasons I like baked eggs – it's such a versatile dish!
Baked eggs can be made in a casserole, but I love the idea of making two for a special breakfast.  How about making them on a Saturday, when the kids have a sleep over date (at someone elses house)?  Or Valentines is coming up….. this would be so nice for breakfast in bed.
This version of baked eggs uses spinach as a base, hence the name Florentine….  I top the spinach with cheese and ham.  I think the secret of the dish, however, is the dash of ground nutmeg.  It makes  the dish something special.  But be careful, a little nutmeg goes a long way!  The dish stands on its own – no need for lots of sides.  Perhaps just a slice of buttered french bread.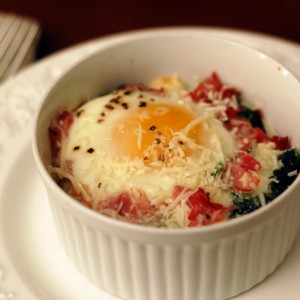 Ingredients
2/3 cups frozen spinach, fully thawed and squeezed dry
dash of ground nutmeg
4 Tblsp finely chopped ham
3 Tblsp finely diced monterey jack cheese
2 eggs
1 Tblsp heavy cream
1 Tblsp finely grated parmesan cheese
Instructions
Preheat oven to 400 degrees F.
Lightly butter two 1 cup ramekins.
Heat 1 quart water to hot, but not boiling.
Place a layer of 1/2 the spinach in each ramekin. Sprinkle with 1/2 dash of ground nutmeg.
Top the spinach with layers of cheese and ham.
Make a small well in the center of each ramekin and break an egg into the wells,. Pour 1/2 a Tblsp of heavy cream over each egg and sprinkle with salt and pepper.
Place the ramekins in a baking dish into the oven. Pour hot water into the baking dish soht ewater goes halfway up the sides of the ramekins.
Bake for 18-20 minutes. One minute before removing from the oven, sprinkle 1/2 Tblsp of the parmesan cheese over each ramekin.
Remove from oven and serve immediately.
http://ascrumptiouslife.com/baked-eggs-florentine-for-two/