I love BLT's.  Crispy bacon with good mayo and fresh tomatoes on great bread. Yum !!  Here are the same flavors in a dip.  It's really easy and best made ahead.  I served it, at a recent party, with little carrots and braided pretzel twists. Of course chips or tortilla chips work just as well..  Oh, if you have any leftovers, don't throw it away! It makes a great sandwich spread. Imagine it on a turkey sandwich with nice crusty bread. Ummm….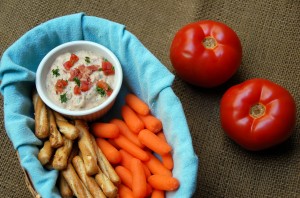 Bacon Tomato Dip (makes 2 cups)
Ingredients:
10 slices bacon, cooked crisp
1 1/2 cups peeled, seeded and diced tomatoes
1 cup mayonnaise
1 Tblsp Dijon mustard
1/4 cup parsley, finely chopped
1/4 cup scallions, finely chopped
6 drops Tabasco sauce (or to taste)
salt and pepper to taste
Instructions:
Blend all ingredients in a processor.
Check for seasoning.
Store in the refrigerator until served. (I told you this was easy!)
Note: Save a little parsley, bacon and tomato for topping.
Adapted from 'Stop and Smell the Rosemary'.