I'm not one  to celebrate National ( name of food) Day – but it's National Bacon Day tomorrow y'all – like I need another excuse to eat bacon.
Bacon is one of my guilty pleasures.  Earlier this year I shared about the best way to  cook bacon – baking it- no muss, no fuss.  Today I'm sharing an idea that came from Chef Kevin Callaghan – whose recipe for Fried Green Tomatoes I recently shared – a BL(FG)T  – Bacon, Lettuce and Fried Green Tomato Sandwich….. and. well. you just HAVE to make this!!
I made  the Fried Green Tomatoes for a Saturday night appetizer and then used the 'extra' fried green tomatoes to make this sandwich. To assemble the sandwich, I spread remoulade sauce on the bottom of a sliced baguette, then added layers of arugula, bacon, fried green tomatoes, crumbled goat cheese and more remoulade sauce on the top.  Mmmm!!  The recipe for Remoulade Sauce is below.  So what's your favorite bacon recipe?   I think this is mine!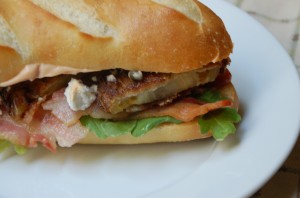 Ingredients
1/2 cup mayonnaise
2 Tblsp ketchup
1 Tblsp Dijon mustard
1 1/2 tsp capers, minced
1/2 tsp Tony Chacheres (no salt) seasoning
1/2 tsp caper juice
pinch cayenne pepper
salt and pepper
Instructions
Mix all the ingredients together, except the salt and pepper.
Season with salt and pepper, as desired.
Chill until used.
http://ascrumptiouslife.com/bacon-lettuce-and-fried-green-tomato-sandwich/
Here are a couple of other bacon recipes:
Bacon Tomato Dip
Blue Cheese and Bacon Dip