It may not be politically correct, but I love bacon.  Not that turkey stuff, but real bacon. But preparing it for a crowd, the traditional way, can be such a mess that I used to shy away from serving it at a brunch. So, I was thrilled to learn a great way to prepare lots of bacon. The secret is to bake it!  Now it's the only way I cook bacon.  There's no spattering and it doesn't need constant babysitting. So, you can cook something else while it's in the oven.   Anything that allows me to multi task in the kitchen gets a big thumbs up from me!
The preparation couldn't be easier. Just put the bacon strips on a wire grid  on a sheet pan and bake for 15 minutes at 400 degrees F. The result? Nice, flat and evenly cooked bacon – not all curled up and partially burnt.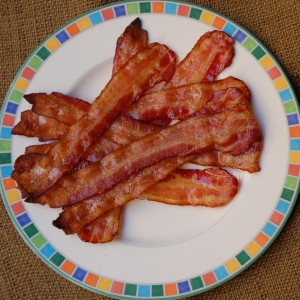 For a special treat – brush the cooked bacon lightly with maple syrup. Yum!!