I'm easing (very slowly) back to reality after my cruise last week.  So no new recipe today.  But I did want to share that, for the fourth year, I'm joining the Great Food Blogger Cookie Swap. If you're a food blogger, I hope you'll join me in a fun event for a good cause. For the rest of you – look forward to lots of cookie recipes.
The swap benefits Cookies for Kid's Cancer and is alot of fun.  Each blogger (last year over 600!) makes and sends a dozen cookies using a new recipe to three other bloggers and (the best part) – gets 3 dozen in return!  In past years I've made…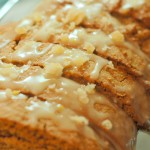 Gingerbread Biscotti  – kicked up a notch with lemon icing and a sprinkle of crystalized ginger.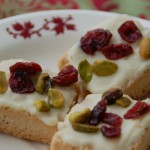 Shortbread – topped with with white chocolate , pistachios and dried cranberries. How festive!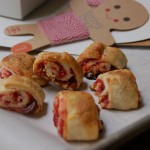 Rugelach – filled with "FROG" (fig, raspberry, orange, ginger) preserves, pecans and chocolate chips.
Hmmmmm, what to make this year??  You'll have to wait 'till December 15 – the day of the big reveal.  By then you might be in the cookie baking mood.
Sorry to rush the season a little……. and to think, a few days ago I was lounging under a palm tree, listening to the ocean lap up on the shore….