On my last post I shared my Mom's recipe for "Foolproof Pastry". But that's really only half the story, for it wasn't until I baked this Apple Galette that I knew the pastry recipe was a winner.
I love the idea of a galette – it's basically a freeform pie.  You make the pastry and roll it out to a larger round than you need for a pie pan.  Then you pile up the filling in the center of the pastry and bring the pastry edges up over part of the filling. Brush the pastry with milk and bake -voila!
For this galette I combined two different types of apples (Granny Smith and Honeycrisp), dried cranberries and pecans.  Feel free to improvise, though, with your favorite pie fruits. I serve it topped with a scoop of ice cream.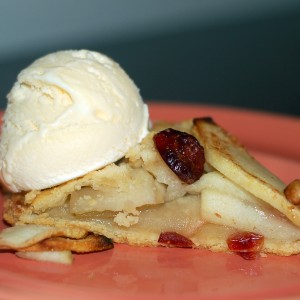 Ingredients
2 medium apples
1 tsp lemon juice
1/2 cup dried cranberries
1/4 cup chopped pecans
1/4 cup brown sugar
1/3 recipe Foolproof Pastry, chilled
2 Tblsp milk
1 Tblsp sugar (optional)
Instructions
Preheat oven to 400 degrees F.
Peel and thinly slice the apples. Place in a large bowl and toss with lemon juice.
Add the dried cranberries, pecans and brown sugar to the apples and toss to combine.
Roll out the chilled pie dough to a 14 inch round.
Pile the apple mistureinthe center of the dough.
Bring the edges of the pastry over the fruit. The crust will not completely cover the fruit.
Brush the pastry with milk and sprinke with sugar (optional).
Place the galette on a baking sheet and bake for 50-60 minutes until crust in golden brown.
Remove from oven and cool slightly. Cut into wedges and serve.
http://ascrumptiouslife.com/apple-galette/