Recently, I attended an evening to celebrate a friend's trip to Italy. It was her first solo trip and became a life changing experience for her. She asked her guests to bring an Italian appetizer or dessert to share. My contribution was biscotti.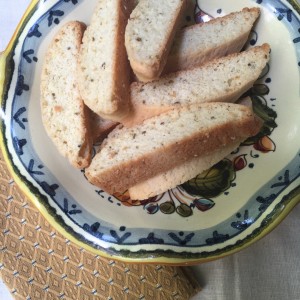 I've shared biscotti recipes here before, both sweet and savory. For this party, I wanted to make a really authentic variety, which I discovered, as I researched, includes Anise, a licorice flavored spice. Since licorice is not everyone's favorite flavor, the perfect amount of anise is critical to this recipe.  I think I've found a good balance here. If you're still skeptical, start with half the amount and add to taste.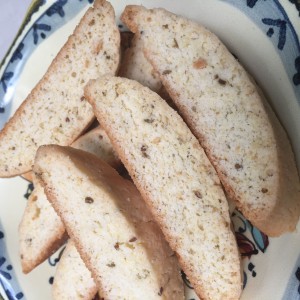 Biscotti, by definition is a twice baked cookie. The batter is formed into two logs and baked for 25-30 minutes. After resting for a few minutes, the logs are sliced and the slices are baked again for 10 minutes, flipping the cookies midway. They're really pretty easy, but for some reason people think they are difficult to make. I say keep 'em guessing!  It reminds me of the old Rice Krispy treat commercial, where the mom sprinkles flour on herself to make it look like she's been slaving in the kitchen. No one needs to know…..
Biscotti is wonderful with coffee, espresso or an after dinner liqueur. It's also a great gift idea – I've been putting a few cookies and a package of cocoa mix in a cute bag, for a nice office gift for years!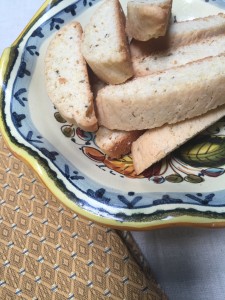 btw- the dish in these photos is one I bought on my trip to Tuscany a few years ago. Stay tuned to a scrumptious life for a little reminiscing about that trip soon!
Ingredients
1 stick of butter
3/4 cup sugar
2 eggs
2 1/4 cup self rising flour
1 tsp ground anise
Instructions
Preheat oven to 350 degrees F and lightly grease a cookie sheet or sheet pan.
Mix the butter and sugar, until fluffy.
Add eggs and beat well.
Add flour and anise. Mix until incorporated.
Divide the dough in half and shape each half into a 9 inch by 2 inch log. The mixture will be quite sticky so wet your hands with water, for easier handling.
Place logs several inches apart as the logs will spread.
Bake for 25-30 minutes.
Remove from oven and cool logs for 5 minutes. Move logs to a wire rack to cool further, about 10-15 minutes.
Slice the logs, using a serrated knife. I slice them on the diagonal.
Place the slices cut side down onto an ungreased cookie sheet or sheet pan.
Bake 5 minutes, turn the slices to the other cut side and bake for 5 more minutes.
Cool on a wire rack. then store in an airtight container
http://ascrumptiouslife.com/anise-biscotti/