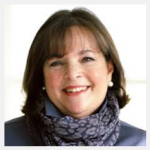 Last Wednesday, I has the pleasure of attending " A Conversation with the Barefoot Contessa", an interview session with local radio personality Belinda Skelton, right here in Atlanta.
First, I think Belinda was perfect for the interviewer role.  She's obviously a fan and an example of Ina's target audience. She did a good job of providing background information and engaging Ina in good conversation. Ina, as I expected, was unpretentious, relatable, funny and gracious.  After an initial hour-long interview, fellow fans lined up to ask her questions in a thirty minute Q&A session.  Some brought gifts, like her favorite flowers (orange tulips), others had recipe/menu questions ( My favorite question was about making enough gravy for Thanksgiving –  Ina confided that she used saved (frozen) drippings to make the gravy in advance – the questioner, aghast,  accused her of cheating. LOL) and still others thanked her for her inspiration.  She seemed genuinely touched at how her recipes have helped improve family relationships.
I have found cooking inspiration from Ina for some time.  Her practical, style is right up my alley.  If you read this blog often, you know I love her recipes.  They are, like the title of her most recent cookbook – "Foolproof".  In the interview, she discussed her recipe building/testing process.  She tries her recipes over and over, changing three things if the taste isn't just right.  Then, when she's satisfied,  she hands the printed recipe to her assistant and watches her prepare the dish.  She notes where her assistant deviates, from what she intended and adds further direction to help the reader/cook get the perfect result.
At one point, she quietly commented, almost as an aside,  that "every menu needs something quiet".  I thought, what a great little gem!  When I first started cooking and putting menus together, I'd include all the dishes I wanted to make – not really thinking that they may have been competing with each other.  There were so many flavors, you lost the beauty of the individual dishes.  Kind of like fireworks – I love the beginning of a fireworks show when they are shot up one at a time –  one BIG burst against the dark night sky.  When the finale comes, there are millions of fireworks going off at the same time – it's very noisy, you don't know where to look and you miss the beauty of  the individual bursts.   So the idea of having something "quiet" on the menu, whether it be polenta, bread, a simple salad, steamed veggies, to offset the 'star' (staying with the sky analogy) dish of the menu is brilliant! I don't mean that all dishes shouldn't be flavorful, just complimentary.  I realize that I'm doing that more and more with my menus now. Ina phased the concept so beautifully.
At the interview I also found good life inspiration.  Ina wasn't happy in her job.  So she "jumped into the pond" (her phrase, that I think I'll steal) and started doing what she loved – cooking.  She survived a HUGE learning curve and ran a gourmet food shop (The Barefoot Contessa) for two decades. (I loved hearing about her reaction when her offer for the store was actually accepted (SH@%!) and how Jeffrey bought out a local bakery when their opening weekend business exceeded their expectations.)  Then, when it was time, she moved on from the store and her cookbook and tv career began.  She didnt' plan it, she just did the next indicated thing.  This seems to be a recurring theme for me, lately. Hmmm……