Greetings from the beach  !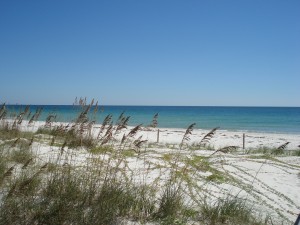 Instead of my annual 'self retreat' at the beach, this year I am spending a delightful week with old and new friends at their fabulous family beach house.
Each of us was asked to prepare dinner one night.  Keeping with the 'island' theme… I chose to make a cuban inspired meal – cuban pork, black beans and rice, roasted veggies and for dessert…….Amazing Coconut Pie – YUM!!
I chose to do this pie for a few reasons:   1) it fit the cuban theme- it's a custardy pie so it kinda has the flan thing going on, 2) it doesn't have crazy ingredients that might not be available at the beach and 3) you make it in a blender — and what self-respecting beach house does NOT have a blender !!!!
Anyway,  this is another recipe from my Mom. It's simple and delicious and was a BIG HIT with my friends !!  I hope you'll try it !
Amazing Coconut Pie
Ingredients:
2 cups milk
3/4 cup sugar
1/2 cup bisquick
4 eggs
1/2 cup butter (1 stick)
1 1/2 tsp vanilla
1 1/3 cups (approx) flaked coconut
Directions:
Preheat oven to 350 degrees.
Combine all ingredients – except the coconut – in a blender.
Cover and blend on LOW for 3 minutes.
Pour into a greased  9 inch pie pan. (I use the butter wrapper to grease the pan)
Let stand for 5 minutes.
Sprinkle the top with the coconut.
Bake for 35-45 minutes.  (If the top is getting too brown, cover with foil)
Serve warm or cold  !