Welcome to Thanksgiving 101!
Last year I hosted my first Thanksgiving in decades.  It went really well.  It was a group effort with everyone bringing a dish. So, I didn't have to do all the work.  I served some new dishes and some old favorites.  In the next few posts, I'll go through the whole meal.  Whether you're a seasoned Thanksgiving chef or a nervous first time host, I hope you'll find some easy and delicious ideas.
You know, even though I cook all the time, I was a little nervous about cooking the turkey (it has been so long!), so I went straight to Ina… I love her story about this recipe.  Apparently a friend was cooking a turkey and forgot to turn the cooking temperature down.  She thought she'd ruined the turkey.  Instead the result was a great moist turkey.  I must agree.
The key to this is a CLEAN oven.  You'll be cooking the turkey for 45 minutes at 475 degrees F – so make sure you clean the oven the weekend before.
Because I was out of the country until a couple of days before Thanksgiving, I opted for a fresh turkey instead of worrying about defrosting a frozen turkey.  I ordered a pre-brined turkey from Whole Foods and picked it up on Tuesday evening, after work.  Easy, peasy !!  If this is your first time cooking a turkey , I highly recommend a fresh turkey.    Who wants to mess with defrosting or, worse yet,  find out on  Thanksgiving morning that the turkey isn't fully defrosted.
Here she is – isn't she lovely?!  Such a beautiful brown.  I was so pleased.  In the pic below, she's about to start resting while I dealt with adding the drippings to the gravy…  and speaking of gravy…. we'll talk about gravy next time.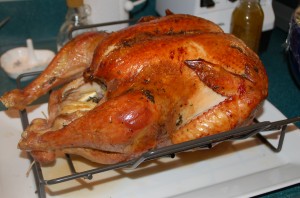 Ingredients
1 (12-14) lb turkey, brined
1 large yellow onion, unpeeled, cut into eighths
1 lemon, quartered
8 sprigs fresh thyme
4 Tblsp (1/2 stick) butter, melted
salt and pepper
Instructions
The day before roasting the turkey, unwrapped the turkey and place it, uncovered, in a large pan. Remove the gizzard, neck etc from the cavity (save for gravy).
Preheat the oven to 475 degrees F.
Place the onion, lemon and thyme sprigs in the turkey cavity. Tie the legs together with kitchen string. Tie the wings close to the body.
Brush the turkey with the melted butter and sprinkle with salt and pepper.
Place the turkey in the oven (legs first, if possible). Roast for 45 minutes.
Turn the oven temperature down to 325 degrees F. Roast the Turkey for about another hour until the breast temperature is 160 degrees and the thigh temperature is 180 degrees. (Use an instant read thermometer).
Remove the turkey from the oven and cover with aluminum foil. Allow it to rest for 20-30 minutes.
Carve and serve with pan juices or gravy.
http://ascrumptiouslife.com/accidental-turkey/